MovieTown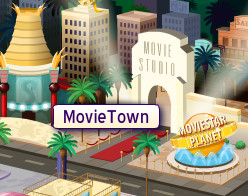 Top Row:
Movies: There Are Options For Creating, Watching, And Reviewing Movies
Design Studio: Section To Design And Later Buy Your Own Clothes, The Newest Edition Of MovieTown
Looks: Section Where You Create Looks Of Yourself And Friends
                  Bottom Row:
Competitions: Where Topics Are Given And Looks, Artbooks, Movies, And Rooms Are Selected For Prizes
Clubs: Where VIPs Create Their Own Clubs And Invite Others To Join And Post Their Own Activities
Artbooks: Where You Express Messages Through Backgrounds, People, And Stickers And Can Add YouTube Videos.
Movie Town (previously known as the Creativity section), is a section on MovieStarPlanet where you express your creativity and put in numerous projects that ensure you star coins and alot of fame points.
The different things available to do in MovieTown are Movies, Artbooks, Looks, Competitions, MSP TV, and the newly added Design Studio. Clubs and YouTube are there as well.
Top Row Section
The top row of MovieTown is where the options for Movies, Design Studio and Looks are currently housed. Previously on the top row was MSP TV, which is no longer there.
Movies
Movies, the thing movie stars do most, are found in this section. Here is where you come to watch, review and create movies. Since this topic is so widely known about on MovieStarPlanet, (so widely broadcasted that MovieStarPlanet changed the Creativity sections name to MovieTown), there is obviously more information on this topic on the Movies page.
Design Studio
The newest edition to MovieTown, the Design Studio, is where you are now allowed to create your own clothing and share with other people. Choices are currently limited but MovieStarPlanet is continuously pondering selective pieces they can add for you to customize. Check the Design Studio page for more information on this topic.
Looks
MovieTown also houses the Looks section, which is where all levels broadcast their looks and clothing styles. Since this is the third most popular thing to do in MovieTown, please check the Looks page for more information.
Bottom Row Section
The bottom row section is where you can find the competitions, clubs and artbook sections. The bottom row previously housed the YouTube section, which is no longer there.
Competitions
Competitions are also housed here. For pretty much all on MovieStarPlanet, competitions bring in good topics, and expect good auditions. They also award some very good prizes, such as VIP for a selected amount of time, complete with the offer of diamonds and starcoins they would give you as well. With new competitions each week, there is more VIPs to expect on MovieStarPlanet! Check the Competitions page for more information.
Clubs
The Clubs are located at MovieTown too. Clubs are made by VIP members and are free for all members to join, if they aren't private. People also meet new people here, and interests shared by others commonly link movie stars to each other, and due to that clubs are another major way for you to meet friends, especially love interests that share things in common. Check the Club page for more information.
Artbooks
Almost as notorious as the movies, artbooks are another favorite of movie stars that range all levels. Artbooks are specifically used for people to send out certain messages to certain people, or just for others to infom others about sales they are giving, free clothing, or simply just new movies or updates on movies. Since artbooks are the second most famous thing to do on MovieStarPlanet, there is a separate page that you can look at for more.
Updates and Changes
Since MovieStarPlanet is changing and constantly adding more things to their website, the MovieTown section has since been affected. Due to this, you will not be able to find certain things that were once there. For example, YouTube has been moved to the top bar, next to the MovieStarPlanet logo, that contains the My Profile, Friends, News, etc. MSP TV has also been moved, its whereabouts probably close to the YouTube section.