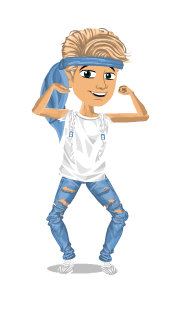 Scooby Dude is a regular user of Moviestarplanet (UK). He is Level 12 ().
About
Scooby is known to be kind, generous, smart and funny but he also has a reputation to be a little bit of a player, considering he's had seven girlfriends in the space of three months. Nowadays Scooby Dude isn't online as much as he used to be due to School.
Usual Appearance
His skin color is Tannish white, he has black eyes and most of the time his hair color is blonde.
His fashion style is clothes with matching colors.
Movies
His movies are very precise as they're made with a lot of time and effort, he likes to make sure everything is correct such as spellings, punctuation, grammar and those sorts of things.
His most viewed Movie or should I say Shortmovie is called Shortmovie 01, which has twenty-nine views and has earned him five hundred and twenty-nine Starcoins, however his most profitable movie is the third movie he's made which is called Decisions 01 which only has twenty-three views but has made him a profit of five hundred and seventy-five Starcoins.
Trivia
His most known friend is - Anna - who is a level forty-six MovieStar.
His most loved look is called Coral King, which has been bought once and has sixteen loves.