[DISCLAIMER]
A lot of the content on this page is the exact copy of that of a previous version of MovieStarPlanet Wiki.

Starcoins (most commonly known as "SC") are the currency on MovieStarPlanet. A user may buy Boonies, furniture/room items, clothes, animations, etc. There are many ways to earn Starcoins, but the one preferred the most is watching/producing movies.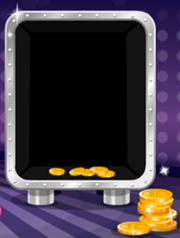 Earning Starcoins
As said before, there is quite a choice of options for earning Starcoins. A user may earn Starcoins from the following:
Short Movies/Movies
In short movies, a user creates a movie where there are mostly 6-8 others moving around for approxiamtely 10-15 seconds. Regular movies can range from 10 seconds to 10 minutes. After watching a movie, the player will earn 10 Starcoins, whereas the maker will earn more depending on the watcher's level. However, the user must rate the movie otherwise the director and the viewer get nothing.
Pets/Boonies
If you pet a Boonie/Pet, you will earn 1-5 Starcoins, depending on how well/big they are. If they are ill, you will most likely earn 1 Starcoin. If they are healthy and Level 10, you will most likely earn 5 Starcoins. Frequently visiting others rooms and petting their pets with a fast computer will make it easier for the user to earn more Starcoins.
Competitions
Winning in a choice of three categories, a user will earn Starcoins, Diamonds and a few days of VIP. The lowest day's worth could be 1 day.
Other
A user can also earn Starcoins by buying either a VIP pack. The lowest amount of Starcoins you can buy is 1,000 and the highest is 91,000. You can, however, buy multiple packs whenever you wish to, but it will not count as VIP if bought multiple times.
Giving/receiving a Greeting will give a player 500 Starcoins, 3000 Fame, and an item. However, if given too many this wastes diamonds because it's 15 diamonds a greet.
The Wheel of Fortune gives players Starcoins, and you get a chance to spin it daily. There are 2: VIP and non VIP. The non VIP gives you 5-40 Starcoins and the VIP gives you 25-200.