TessaElite
is a regular user of MovieStarPlanet (US). She is level 24 ().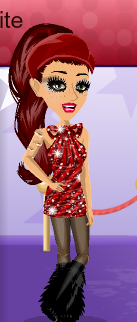 Artbooks, Movies, Looks
Artbooks One of TessaElite's favorite things in MovieTown are artbooks. Her artbooks are usually just fun and silly. Sometimes she can get inspired by a movie or artist. Other times, she creates an artbook for her supporters.
Movies TessaElite's movies are usually about a high school life and how you can deal with betrayal.\
Looks The other one of TessaElite's favorite things in MovieTown are looks.
Interview
Why did you join Moviestarplanet?
Well, I saw a bunch of commercials on TV and I thought you just find friends and hang until my friend at school told me all about it. I created a few accounts and I ever since I got VIP I've been addicted to it
Where did you find out about Moviestarplanet?
On commercials and my friend told me about it
If you could rename your account to anything, What would u rename it to?
I would rename it to: Foxes
What would you be like if you had never joined Moviestarplanet?
I cant imagine that! MSP is one of my favorite things in the world
Trivia
Her birthday is October 6th.
Her favorite show is Jessie.
She has brown hair in real life.
She owns 2 puppies.